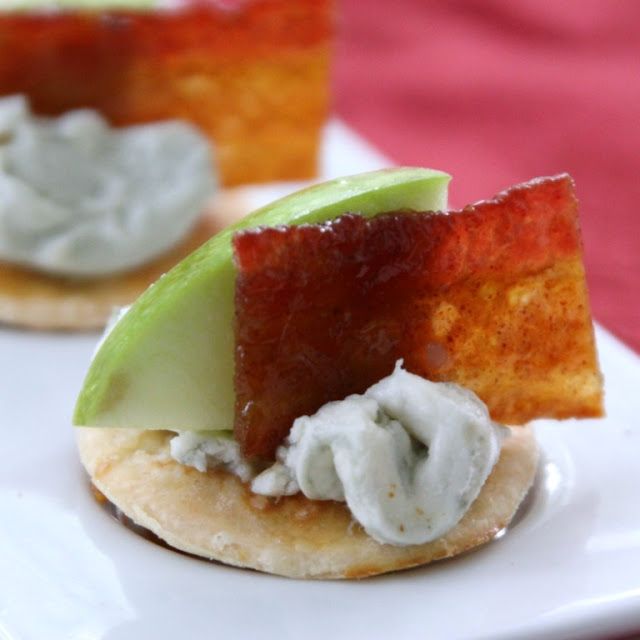 Have you been looking for the perfect recipe this season for all of those holiday get togethers with family & friends? We asked our agents to share their favorite "go to" dish to pass and we think you'll love these delicious recipes. Stay tuned over the next couple of weeks to see what's in store!
This week, we are featuring Scott West's favorite holiday appetizer. Impress your guests this season with Candied Bacon and Apple Blue Cheese Canapés (recipe and photos courtesy of MenuMusings).
The recipe below makes about 40 canapés and is sure to be a party hit! Check out the "Agent Tips" underneath the instructions to add a little twist on the original recipe.
Ingredients:
Pillsbury roll-out pie crust (in the red box)

1 egg

2 Tbsp water

kosher salt

1/3 cup light brown sugar

1/4-1/2 tsp cayenne pepper

maple bacon – maybe xxx slices

1/2 cup water

1 Tbsp sugar

juice of 1 lemon

2 small granny smith apples

4 oz cream cheese

1 cup blue cheese, crumbled
Instructions:
Preheat oven to 400 F.
To prepare the "crackers": Roll out the pie dough (slightly thinner than it comes) on a lightly floured surface (per the "Agent Tips" below, swap out the pie crust for puff pastry). Cut circles out with a 2″ round cutter. Place the round on a parchment or waxed paper-lined cookie sheet. Brush them with the egg and 2 Tbsp water mixture, then sprinkle with kosher salt. Bake for about 8 minutes in a 400 F degree oven. Set aside to cool while you prepare the bacon.
For the candied bacon: Do yourself a favor and prepare a sheet pan with aluminum foil (shiny side down) and then a cooling rack. Simply throwing the foil away will make life much easier when this is all said and done. Place the strips of bacon on the cooling rack. Mix the brown sugar and cayenne pepper. Sprinkle the sugar mixture over the bacon. Bake for about 15 minutes in a 400 F degree oven. Remove and let cool for an additional 15 minutes or so to firm up.
Prepare the apples: Mix the 1/2 cup water and juice of one lemon. Slice the apples thinly and soak in the water several minutes. Remove and pat dry on paper towels.
For the blue cheese base: Mix softened cream cheese and crumbled blue cheese together. Don't over mix as you still want to be able to see some chunks of blue cheese. Put the mixture into a piping bag or a zip top back.
Assembly: Pipe a bit of the blue cheese spread onto a cracker. Place an apple wedge and a piece of bacon into each. You could prepare all the parts and assemble prior to serving if you'd like.
*Agent Tips:
Swap out the pie crust for puff pastry (highly recommended). Add finely diced chives to the blue cheese/cream cheese mixture and save a few chives for garnishing.
Every gathering we bring these to they are gone within the hour! They are easy to make but look like something that would be served at a fancy event or French restaurant. You can never go wrong with Candied Bacon."

-Scott West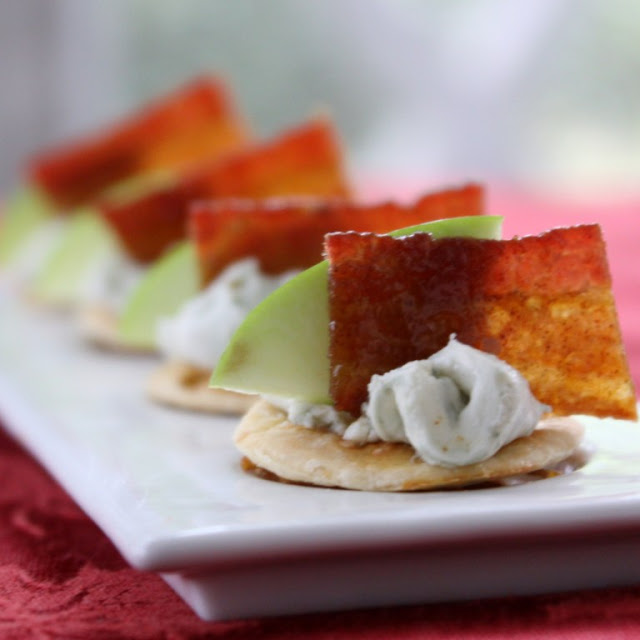 We hope you enjoy this delicious recipe and stay tuned for more holiday favorites to come!
Sources:
http://menumusings.blogspot.com/2012/07/candied-bacon-and-apple-blue-cheese.html
Blog contributor: Molly De Wald, Creative Director & Licensed Administrative Coordinator