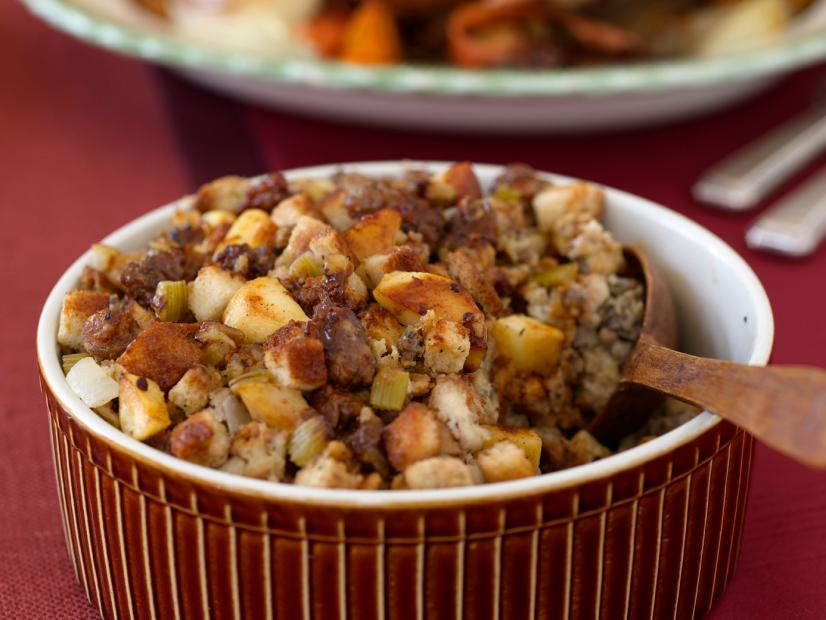 Have you been looking for the perfect recipe this season for all of those holiday get togethers with family & friends? We asked our agents to share their favorite "go to" dish to pass and we think you'll love these delicious recipes. Stay tuned over the next few days to see what's in store!
Today, we are featuring Elizabeth Biggs' favorite Sage, Sausage & Apple Dressing recipe. Your family and friends will love this delicious, easy-to-make specialty (recipe and photo courtesy of Food Network Kitchen).
The recipe below makes about 8 to 10 servings and is sure to be a holiday hit! Don't forget to check out the "Agent Tips" underneath the instructions.
Ingredients:
16-ounce bag stuffing cubes

6 tablespoons unsalted butter, plus more for greasing the pan and topping

1 pound fresh sage sausage, casing removed

1 medium onion, chopped

2 cooking apples, such as Gravenstein, Rome, or Golden Delicious, peeled, cored, and chopped

1 to 2 ribs celery with leaves, chopped

1/2 teaspoon kosher salt

3 cups chicken broth, homemade or low-sodium canned

1/4 cup chopped fresh flat-leaf parsley

1/2 cup walnut pieces, toasted (See Note*)

2 eggs, beaten
Instructions:
1. Preheat oven to 325 degrees F.
2. Put the stuffing cubes in a large bowl and set aside. Butter a 3-quart casserole dish.
3. Melt 2 tablespoons of butter in a large skillet over medium-high heat. Add the sausage and break up with a wooden spoon. Cook until it loses most of its pink color, but not so much that it's dry, about 5 minutes. Add the sausage and pan drippings to the stuffing cubes. Melt the remaining butter in the pan. Add the onion, apple, celery, and salt. Cook until the vegetables get soft, about 5 minutes. Add the broth and parsley and bring to a boil.
4. Pour the vegetable mixture over the stuffing cubes and toss until evenly moistened. Mix in the walnuts and eggs. Loosely pack the dressing in the prepared pan and cook uncovered until the top forms a crust, about 40 minutes. Drizzle about 2 tablespoons of turkey pan drippings or melted butter over the top. Cook until the top is crisp and golden, about 20 minutes more. Set immediately or warm.

*Note: Put the dressing in the oven during the last hour of cooking the turkey To toast nuts, spread them out on a baking sheet and toast in a 350 degree F oven until golden, about 7 minutes.
*Agent Tips:
Liz recommends using Bob Evan's breakfast sausage, she says it's "the best!."
Everyone's favorite dish at Christmas dinner!"
We hope you enjoy this delicious recipe and stay tuned for more holiday favorites to come!
Sources:
Recipe & Photo- https://www.foodnetwork.com/recipes/food-network-kitchen/sage-sausage-and-apple-dressing-recipe-1941694
Blog contributor: Molly De Wald, Creative Director & Licensed Administrative Coordinator