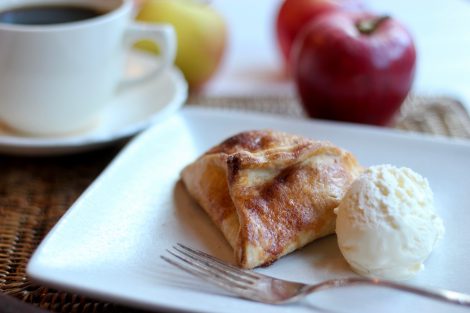 Have you been looking for the perfect recipe this season for all of those holiday get togethers with family & friends? We asked our agents to share their favorite "go to" dish to pass and we think you'll love these delicious recipes.
Today, we are featuring Brett Bittrick's family favorite, his grandmother's Apple Dumpling recipe. Your family and friends will love this Bittrick family specialty, it's a true holiday treat!
Don't forget to check out the "Agent Tips" underneath the instructions.
Ingredients:
2 cups of flour

1 teaspoon salt

2 teaspoons baking powder

3/4 cup shortening

1/2 cup milk

6 apples
Instructions:
1. Preheat oven to 375 degrees F and grease 9×13 baking pan(s)
2. Make the dough by mixing the flour, salt, baking powder, shortening and milk.
3. Roll the dough 1/4" thick and cut into squares to place in pans.
4. Slice the apples into smaller pieces and arrange on the dough squares.
5. Sprinkle with sugar, cinnamon and a dab of butter. Pull up the edges of the squares and pinch into ball shape.
6. Cook for 35 minutes at 375 degrees F.

*Note: Best served hot with ice cream or whipped cream or milk.
*Agent Tips:
My grandmother was famous for this simple but elegant holiday favorite. For best results, eat warm, add a pad of butter, a splash of milk over top and enjoy! In loving memory of Betty Heaston and her delicious cooking!"
-Brett Bittrick
We hope you enjoy this delicious recipe and have a wonderful holiday with family & friends!
Sources:
Photo- http://www.grandcentralbakery.com/recipes/u-bake-recipes/made-with-gcb-pie-dough/apple-dumplings/
Blog contributor: Molly De Wald, Creative Director & Licensed Administrative Coordinator